Kyiv is the capital and most populous city of Ukraine.
The city is located in north-central Ukraine along the Dnipro River. Kyiv is an important industrial, scientific, educational, and cultural center in Eastern Europe. The city's name is said to derive from the name of 'Kyi,' one of its four founders. Kyiv is also home to a Logistics Plus office where we proudly serve both small and large businesses throughout the region.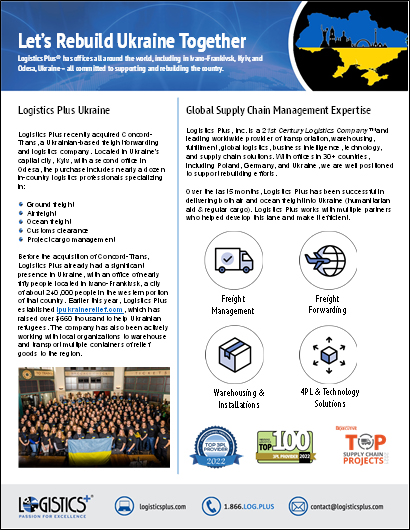 At Logistics Plus, we are more than just a local logistics company – we are a team of talented and caring professionals that share a passion for excellence, service, and community. Whether it is working as your 3PL or 4PL partner, our services include total logistics management, air and ocean freight forwarding, project cargo and project management, import/export services, customs and global trade compliance services, and logistics and technology solutions.
If you're located in Ukraine, your friends at Logistics Plus are ready to provide you with local, domestic, and global transportation and logistics services. Additionally, we'll show you how our people in Ukraine put the "plus" in Logistics Plus by doing the big things properly, and the countless little things, that together ensure complete customer satisfaction and success!